Sponsorship Opportunities
Be a part of CITRENZ 2022
A great opportunity to partner with CITRENZ 2022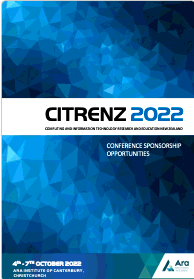 It's our pleasure to present to you this exciting sponsorship opportunity. We invite you to be a part of The annual conference of CITRENZ, (COMPUTING AND INFORMATION TECHNOLOGY RESEARCH AND EDUCATION NEW ZEALAND) and to be a part of this informative and interesting group of academics presenting on topics from every corner of our industry, from Computer Science to Te Pukanga - and all the hot topics of 2022 in between
This year we will be hosted by Ara Institute of Canterbury from the 4th - 7th of October for a 3-day conference and single-day workshop format with delegates from tertiary institutions right across the country.

Get your brand in front
of Senior lecturers now!

more than 54% of attendees in 2021 were heads of schools


Sponsorship opportunities are available now
There are four different sponsorship opportunities for CITRENZ 2022 starting at just $500
Become a major CITRENZ sponsor, with great exposure at both the conference and the conference dinner event .
Support CITRENZ as a silver sponsor, with good brand coverage and 2 free tickets to the conference.
As a Bronze sponsor your logo and name will be everywhere you would expect it
Or be a CITRENZ Supporter for just $500 and get Three tickets to the conference.
---